The Prudent Speculator newsletter has proven to be a complete investment Digest for an investor to make the right move in terms of investment. The number one ranked newsletter as per Hulbert Financial Digest for the past 20,25 and 30 years has been able to achieve that success through efficient research and with a strong technical team responsible for the scrutiny of the stocks and the information. Information is primary tool for experiencing success in the share market the selection of which is the crucial challenge for the investor and that's where Prudent Speculator helps the investor in filtering these information and narrow it down to the most important.


The Prudent Speculator Newsletter is backed by a team of experts which is led by John Buckingham who is considered as one of the modern day investment guru and also is the Chief Investing Officer of AFAM Capital (A US based company). The team scrutinizes hundreds of shares for their potential for growth and various other financial aspects. The team also does advanced research on factors both global and local which have a say in the movement of the market.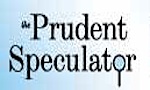 The Newsletter covers various technical aspects of shares and the market many of which is expressed in graphs which include advanced comparison of factors which help the investor to understand relationships between these factors. The Newsletter gives 40 stock suggestions for the investor to invest, the selection being done on the basis of the stocks potential for future performance. Subscribers are given guidance on how to maintain a portfolio of investments which helps in countering any chance of making a loss by investing across several sectors.
The Prudent Speculator Newsletter is delivered in the form of monthly electronic subscription accompanied with weekly alerts on important news and developments in the share market. The subscribers are also granted access into the online database of the research information through logins and can browse for the information according to his needs. Concluding the Prudent Speculator newsletter is considered as one of the best in the online newsletter industry with its advanced research and its team of experts and their suggestions.
Summary
Reviewer
Review Date
Reviewed Item
The Prudent Speculator Magazine
Author Rating