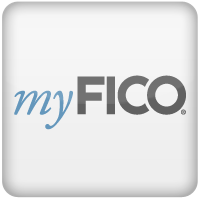 my FICO – Grab Your Credit Score
MyFICO.com
FICO
FICO- Fair Isaac Corporation is the company which invented the FICO credit core system whereby a customer is scored on the basis of various parameters. FICO sets a credit score for each customer. This score reflects the customer's credit rating. FICO scores are sought by many institutions for lending loans or any form of customer credit.
MyFICO is the consumer division of Fair Isaac Corporation. MyFICO helps customers by providing useful credit information which can help customers understand the consequences of their financial decisions. The information also helps the customers to maintain a good financial health. Over 23 million FICO scores have been sold through MyFICO. The company also has an established relationship with prestigious credit reporting agencies Experian, Equifax and TransUnion. Together they have established a system of credit scoring where a score is given to a customer which represents the credit position. This score is based on the information regarding the customer's previous financial transactions or dealing.
Services
FICO score: The main service that MyFICO provides is to provide the FICO score through the use of the information from the 3 firms. This is a service which is provided to customer for a fee. This would involve fetching credit information from the 3 credit agencies.
Credit Report: MyFICO also helps in reviewing the credit reports of the customer with ease. This is a fee based service which is provided by the company.
Financial options: This is a service where the company gives advices or choices for the customers in the matter of credit card and other debt decisions. MyFICO gives an unbiased opinion on the selection of cards. Advice largely is affected by the customer financial position and his credit score.
"Repair your Credit"- In MyFICO customers are also given advice on "repairing" their credit. Yes that is correct, if someone is willing to change his credit score MyFICO provides them with advices needed to set the things right.
FICO Score- Interpretation

FICO score is represented in number which ranges from 350-850. The greater a person score the greater is his credit worthiness. This score really becomes crucial on the time of availing a loan. Over 90% of the credit providing firms seeks FICO score before lending out the loan. The structure of the FICO score can be tabulated roughly as
| | |
| --- | --- |
| Range | Interpretation |
| 720-850 | Excellent |
| 660-719 | Good |
| 600-659 | Fair |
| 350-599 | Bad |
The FICO score makes a significant effect on the interest rate charged over the customer. For eg a person with an excellent FICO score would be charged with a comparatively lesser interest rate which indirectly help the person save a considerably large amount of money on the completion of the payment of the credit.
Summary
Reviewer
Review Date
Reviewed Item
Author Rating