The Prudent Speculator ranked number one as the best stock newsletter by Hulbert Financial Digest as per review for the best investment newsletter. The ranking is based on their report on 31-12-2013 and also based on an average of the portfolios recommended in case there is more than one. The report rates it as number one for the past 20, 25 and 30 years. The prudent speculator was started as a joint venture between Forbes and Al Frank in the 1970s.


The research team of Prudent Speculator is comprised of experts who have immense practical experience in this field and is led by John Buckingham who by many people considered as one of the modern day investment gurus and who also happens to be the Chief Investment officer of AFAM (Al Frank Asset Management) Capital. The team scrutinizes hundreds of stocks for their potential for growth from various financial perspectives and the suggestions are based in this extensive research. The team is relentlessly in search of information that has significant impact on the market.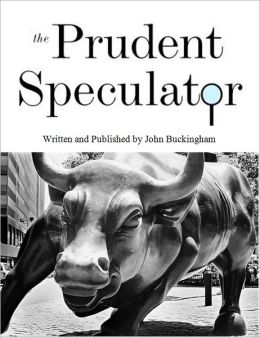 The Newsletter covers almost all the crucial aspects of the investment market which ranges from latest news to stock suggestions on the basis of their performance. The Newsletter covers all the global and the domestic factors that have an impact on the share market. It also provides graphical comparisons of various factors over different time periods which help them in understanding the trend and the direction of the market growth. Prudent Speculator gives suggestions on stocks to invest, every month 40 stocks are recommended for investment based on their future potential for earning profit. Investors are also guided on how to maintain an efficient portfolio investment by selecting the sectors which are showing signs of upward movements. This helps the investor in spreading his risks and also controlling the loss and "all the eggs are not in one basket".
The Prudent Speculator comes in monthly electronic editions along with weekly alerts on latest information which has a significant impact on the prices of the shares. The subscribers are also granted access to the online research database with an exclusive subscriber login and password which enables the investor to do custom search. To conclude Prudent Speculator is one of the best in the field on Electronic Newsletters and has for a long period proves that it is an investor's best friend.
Summary
Reviewer
Review Date
Reviewed Item
Prudent Speculator magazine
Author Rating